West African Crocodiles conservation Project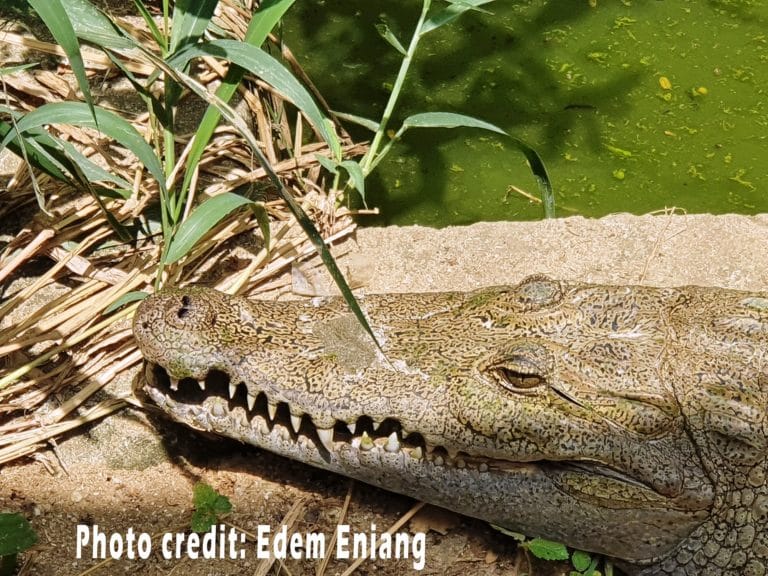 BPC Nigeria has been the sole organization carrying out Crocodiles conservation in Akwa-Ibom and Cross River states area of the Niger Delta region of Nigeria (a portion of the Guinean Forest of West Africa). The project which started with the advisory and technical support of Prof.  Luca Luiselli of the University of Rome, Italy in 2003 continued until 2020 when the Global Environmental Facility (GEF) Small Grants Progamme (SGP) Nigeria awarded BPC its small grant which was administered by United Nations Development Programme (UNDP) to implement an in-situ project conserving crocodiles with the title "Building a Community-Based Conservation Initiative for Threatened Tortoises and Crocodiles in Uyo, Akwa-Ibom" Nigeria.
This followed soon after BPC had completed its Tortoise Conservation project that was funded by Critical Ecosystems Partnership Fund (CEPF) under Strategic Direction 3: Safeguard priority globally threatened species by identifying and addressing major threats and information gaps. It was also to support the implementation of conservation action plans for critically endangered and endangered species on the IUCN Red list and within Corridor No. 8: which is the Lower Niger Delta, focusing on Key Biodiversity Area   fw10 South East Niger Delta – near Calabar . This has remained our focal area to present day.
On the 30th day of September 2016, the Biodiversity Preservation Center (BPC) Uyo, Akwa Ibom State, Nigeria embarked on a project entitled ''In search of the forgotten wildlife species of Nigeria'' otherwise generally referred to as 'Voyage of Discovery' led by Dr. Edem A. Eniang of the University of Uyo, Nigeria. The project employed many ingenious methods to work with local communities to trace and track the endemic, endangered and critically endangered species of wildlife that were once known for the country but are no longer found. The team in the project focused particular attention on Mecistopscatapractus which was last seen by Dr Luca Luiselli in 2006 in a bushmeat market in Calabar, Cross River State. Thereafter, the team has surveyed six (6) states of the nation namely; Akwa Ibom, Bayelsa, Cross River, Delta, Rivers and Ogun, but could not find a single specimen of Mecistops cataphractus.
The search continued persistently until year 2021 to a climax came when at 16:52 Nigerian time, the team encountered a named hunter- Mr. Akpan Umanah Umoh from Mbiaobong Edem Edik who currently lives in Okopedi, Itu LGA  of Akwa Ibom State hunting wildlife animals in the wetlands such as manatee, crocodiles, and other wild animals. Akpan Umanah Umoh who has been in the trade of hunting manatees and other animals' business for over 40 years. Currently, he is 60 years old. He was trained at the age of 20 by Alhaji Mai Rigga to hunt manatees.
The encounter with Mr. Umana finally led the team to the first physical evidence of the continued existence of the slender snouted crocodile in Nigeria.  When Mr. Umanah to prove his hunting prowess to the BPC TEAM rushed off in anger to his house and came back in less than 30 minutes with the huge trophy (the intact skull of the long snouted crocodile) he killed at Itu wetlands on the 15th of November 2017.
The encounter with Mr Umanah brought back hope that the forgotten and most important crocodile species in Nigeria was still hanging out there. These validate our earlier observation of a life specimen the previous month during our research/ field survey where we were unable to photograph the individual before it escaped our camera lenses. Thus, the team is leaving no stones un-turned in the search for a life individual towards an in-situ conservation project targeting the species in Itu wetlands. It must be noted that BPC had long ago embarked on a nationwide search for the species since year 2006 and had intensified her efforts at the beginning of the SGP funded project by; printing 10,000 A3 size-coloured posters for distribution across Nigeria and online campaigns and offering of rewards to any Nigerian who could lead the team to the crocodile species anywhere in the country.  Since the very last recorded sighting of this crocodile species was in the year 2006 at Hawkins Beach market in Calabar, Cross River state where it was displayed for sale as bushmeat.
BPC has all the zeal to keep the conservation efforts towards the long term survival of the slender snouted crocodile in Nigeria but has no funds to do so sufficiently. Please go to our JUST GIVING page and support us to sustain the project.
So far, BPC is grateful to Critical Ecosystems Partnership Fund (CEPF)/ Birdlife International; GEF SGP Nigeria/ UNDP; University of Uyo; Rivers State University; IUCN Crocodiles Specialists Group (CSG); Host communities of KBAs; Participating Students and volunteers.