Occasion /Event
International Vultures awareness day lecture eminently organized by TheDaily Africa Submit.
Virtual presentation
Date: 3rd  September 2022.
Globally, the first Saturday in September each year is celebrated as International Vultures Awareness Day.
SIGNIFICANCE OF THE DAY
The International Vulture Awareness Day has grown from Vulture Awareness Days run by the Birds of Prey Programme of the Endangered Wildlife Trust in South Africa and the Hawk Conservancy Trust in England, which decided to work together and expand the initiative into an international event.
On the first Saturday in September, the aim is for each participating organization to carry out its own activities that highlight vulture conservation and awareness. This website provides a central place for all participants to outline these activities and see the extent of vulture conservation across the world.
It is now recognized that a coordinated international day will publicize the conservation of vultures to a wider audience and highlight the important work being carried out by the world's vulture conservationists.
Additionally, it is a valuable resource for vulture workers to learn about the activities of their colleagues and to perhaps develop new collaborations or exchange information.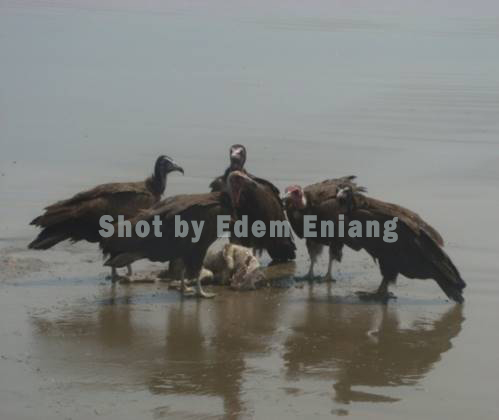 Introduction
Vultures are an ecologically vital group of birds that face a range of threats in many areas where they occur. Populations of many species are under pressure and some species are facing extinction.
There are 30 confirmed vulture species throughout the world and 11 of these species are found in Africa while seven species are regarded as natives of Nigeria.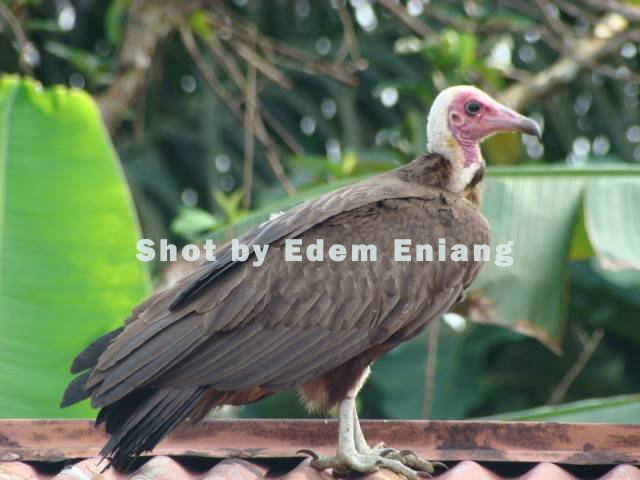 Map of Nigeria showing some Biodiversity Hotspots; NNPS, 2011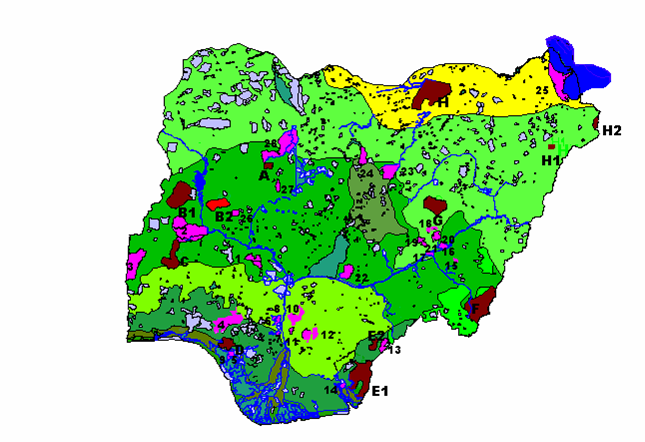 Some Vernacular names of Hooded Vulture in Nigeria
Efik / Ibibio – Utere
Hausa – Angulu
Ibo – Udele
Yoruba – igun/ Agala
Ejagham – Utere
N/B: Please text your own language name in the comment section if you know it.

ANCESTRAL WISDOM
Our ancient Efik/Ibibio ancestors had a popular wise saying "Akwa Abasi aama owoh Utere aduo anoo" literally saying, if Almighty God Blesses any man, Vultures will rest on his/her roof top.
Nowadays when you by stroke of luck come across a kettle of vultures in flight, such a flock would hardly be above ten (10) individuals in total.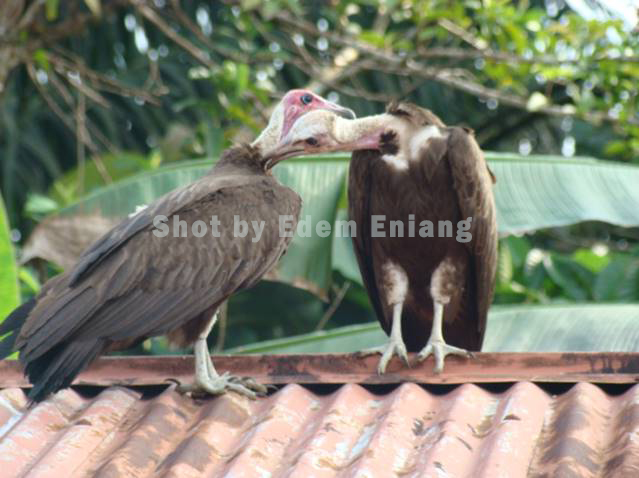 HOW DID WE GET HERE?
Half Baked Theologians, Radio / Television Evangelists and many Religious Bigots have come to demonize some vulture species thereby making the uninformed to regard some vulture species as evil and capable of playing surrogate role to the devil and possibly involved in witchcraft as portrayed by some Nigerian movies/ films.
Some other vultures eg Vulturine fish eagle are hunted for their white plumes commonly used in decorating head gears of some tribal chiefs eg in Ibo areas of south east Nigeria.
CURRENT THREATS
Common and escalating threats
Direct poisoning
Hunting/poaching
Loss of habitats/ Shortage of natural nesting platforms eg big tall trees
Collision with transmission infrastructures
Raiding of nests for eggs used in traditional medicines and juju practices
Shortage of food/feeding stuffs
Human persecution out of ignorance and superticious believes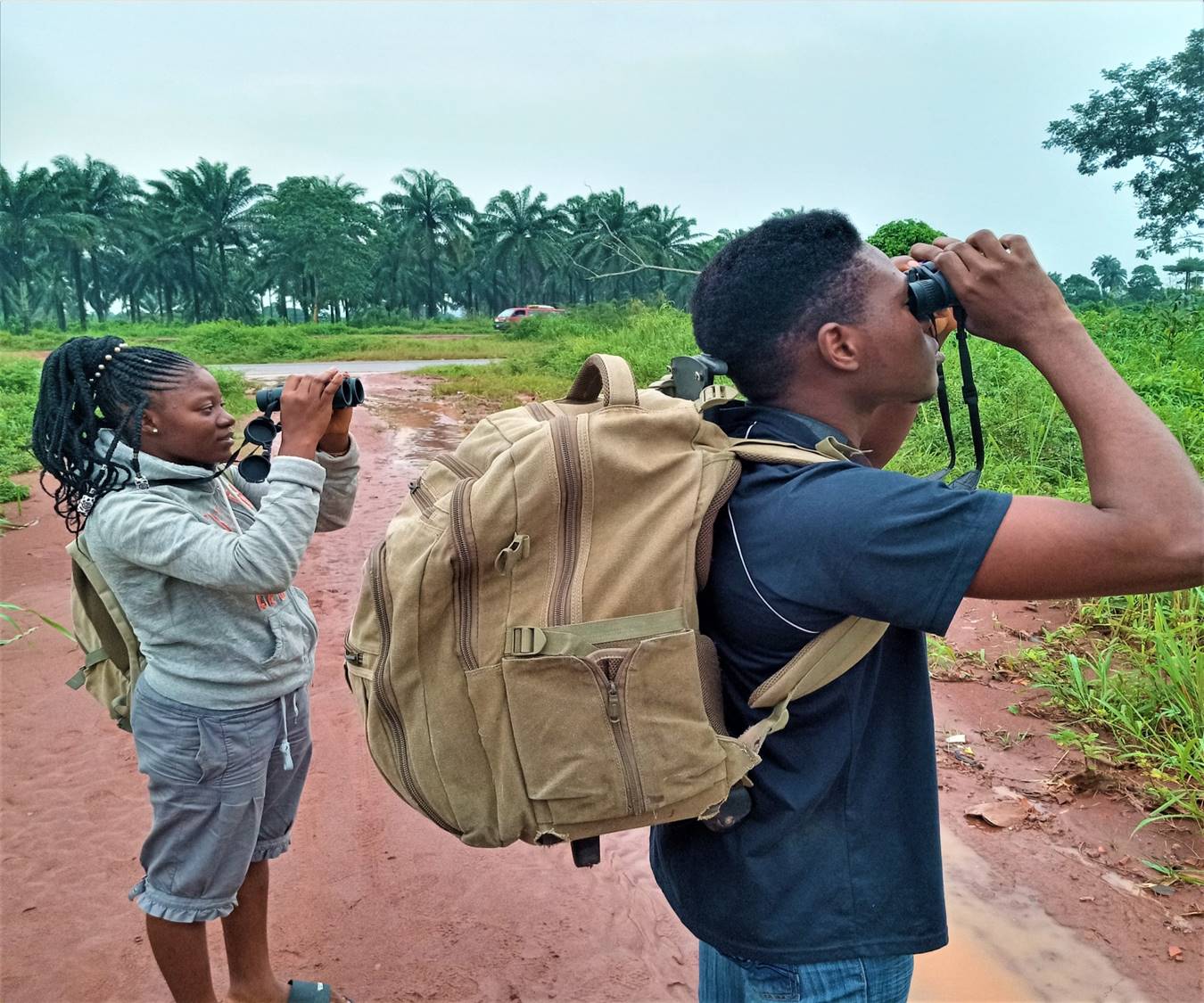 Our studies & preliminary results
Whilst several species were used in fetish practices and trade, Vultures were found popularly used in local charms and their eggs used predominantly make bracelets that were believed to ward-off bullets from the wearer locally called 'Akpuub' or 'Odeishi'. When mixed with Manatees parts. Therefore, escalating Terrorism and insurgency in north-east, banditry and cattle-rustling across northern-savannahs, armed Fulani-herdsmen invasions/kidnapping in south-west and middle-belts as well as militancy in Niger-Delta coupled with general insecurity problems across Nigeria is perceived to be strongly related to increasing number of manatees killed.
Some Raw Data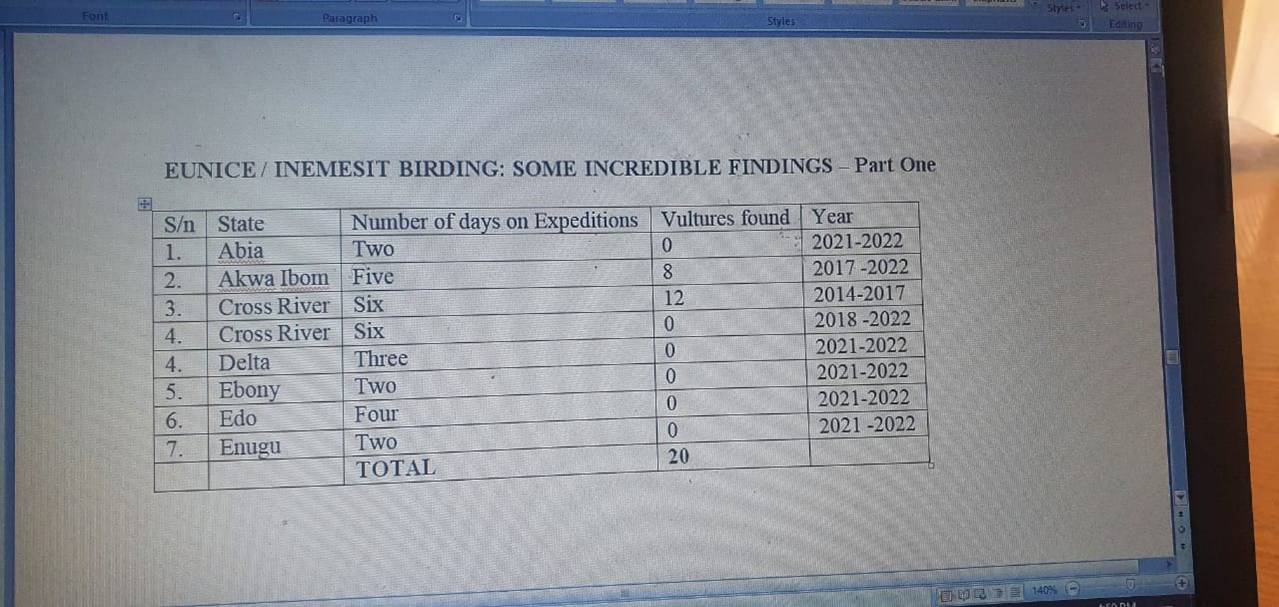 More Raw Data
Manatee Calf on a Motorbike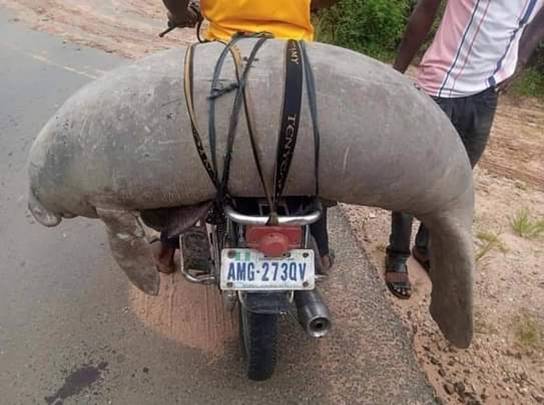 Myriads of Challenges in the Forests and coastal Zones (Vultures habitat)
-Policy
-Absence of Marine Protection/Protected Areas
-Invasive species
-Coastal erosion/floods
-Oil spills/related pollution
-Mangrove extirpation /Mangrove wood banking
-Plastic menace
-Over fishing
-Militancy/ Sea piracy/Corruption
-Poverty induced perturbations
-Matching ground syndrome
-Illiteracy and absence of conservation awareness
-Cross border issues and boundary crises
-Indiscriminate Cattle Grazing
Further Findings
Although the use of charms /products were common, beneficiaries regarded it as sacrilegious to admit publicly, thus, a significant proportion of trade/consumption may not have been documented. Investigation of commodity chain characteristics from seashores to riversides/ consumers, revealed that some law enforcement agents and criminals have used one product or another.
No Trees in sight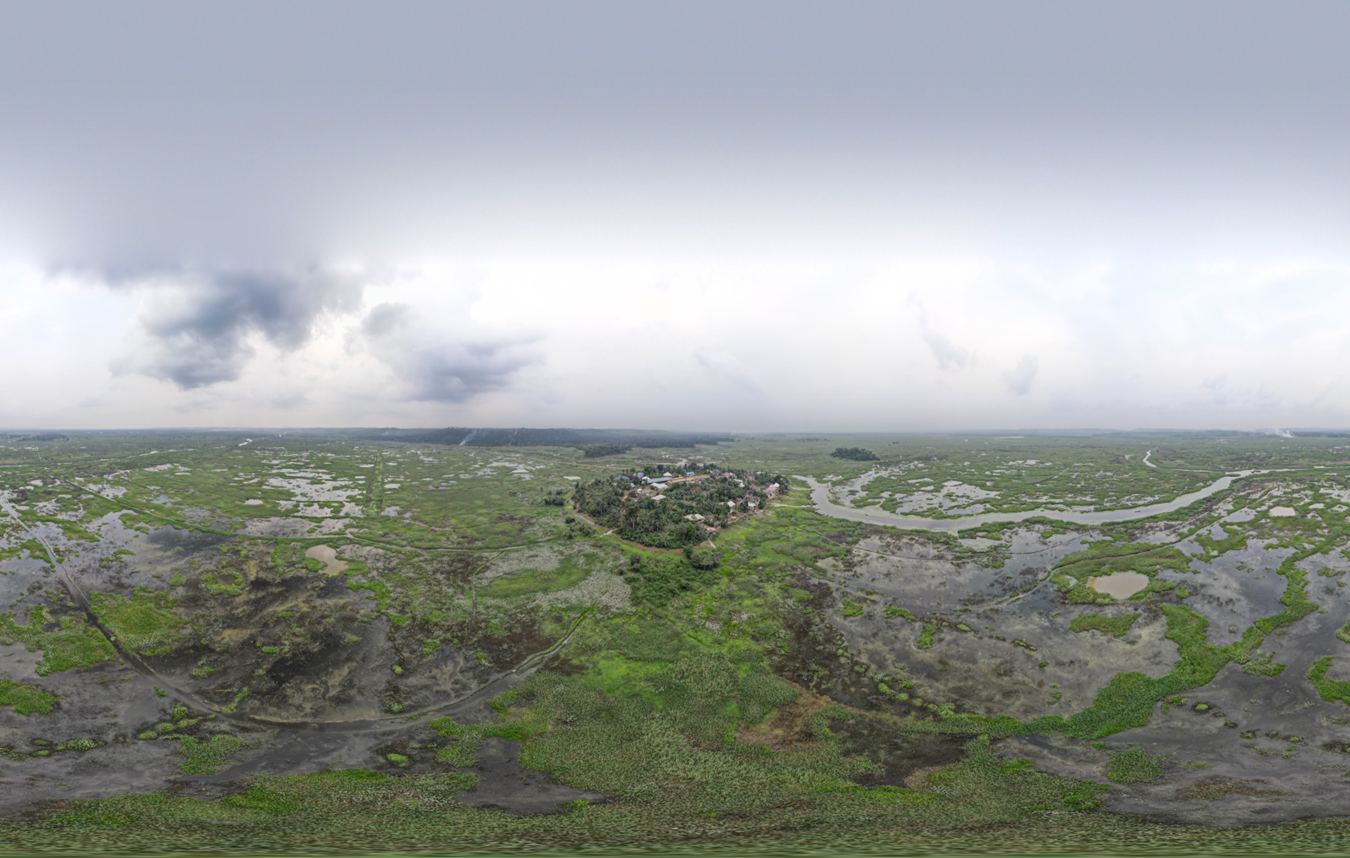 Excessive Illegal Logging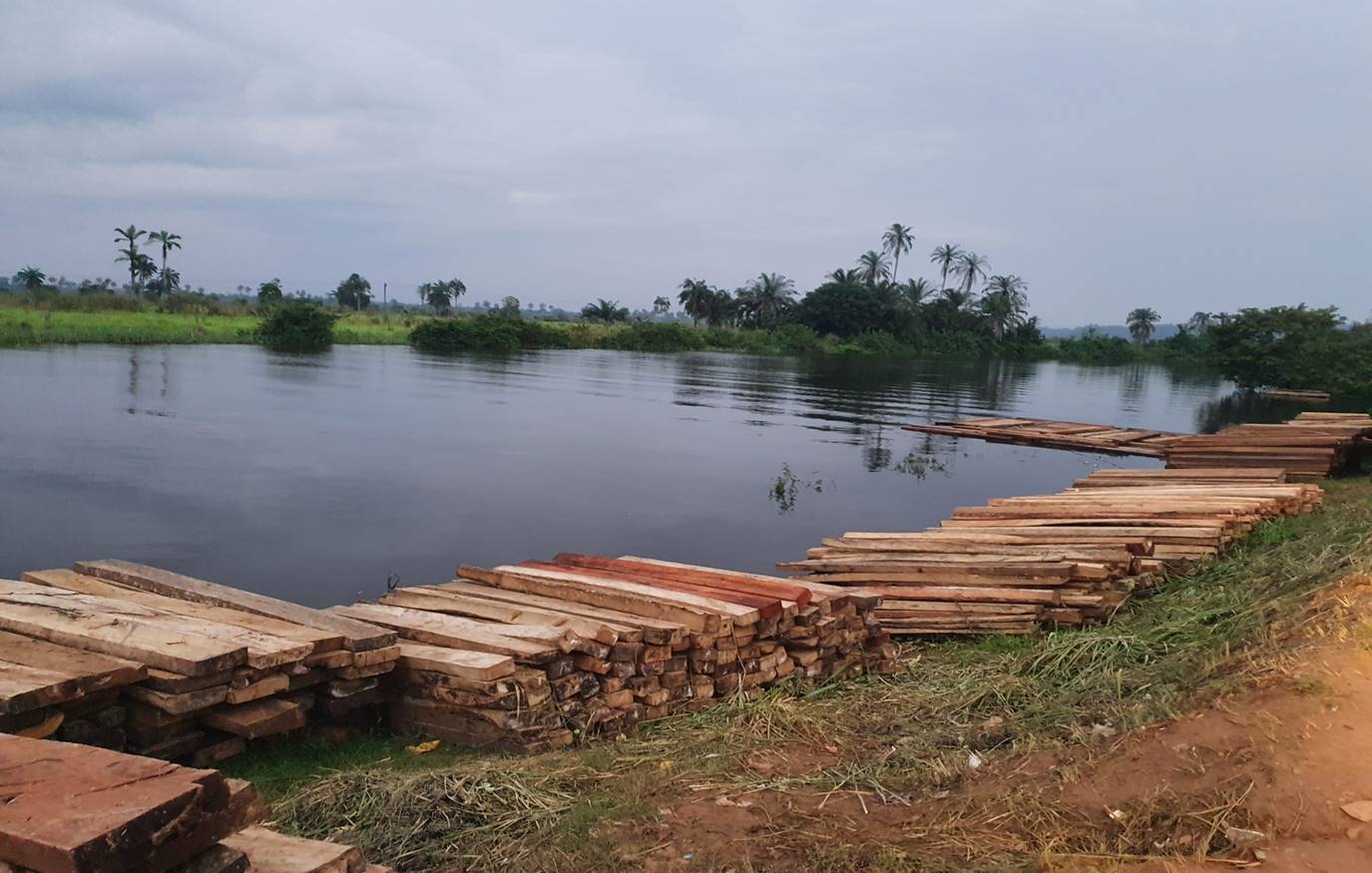 Dead Animals , No Vultures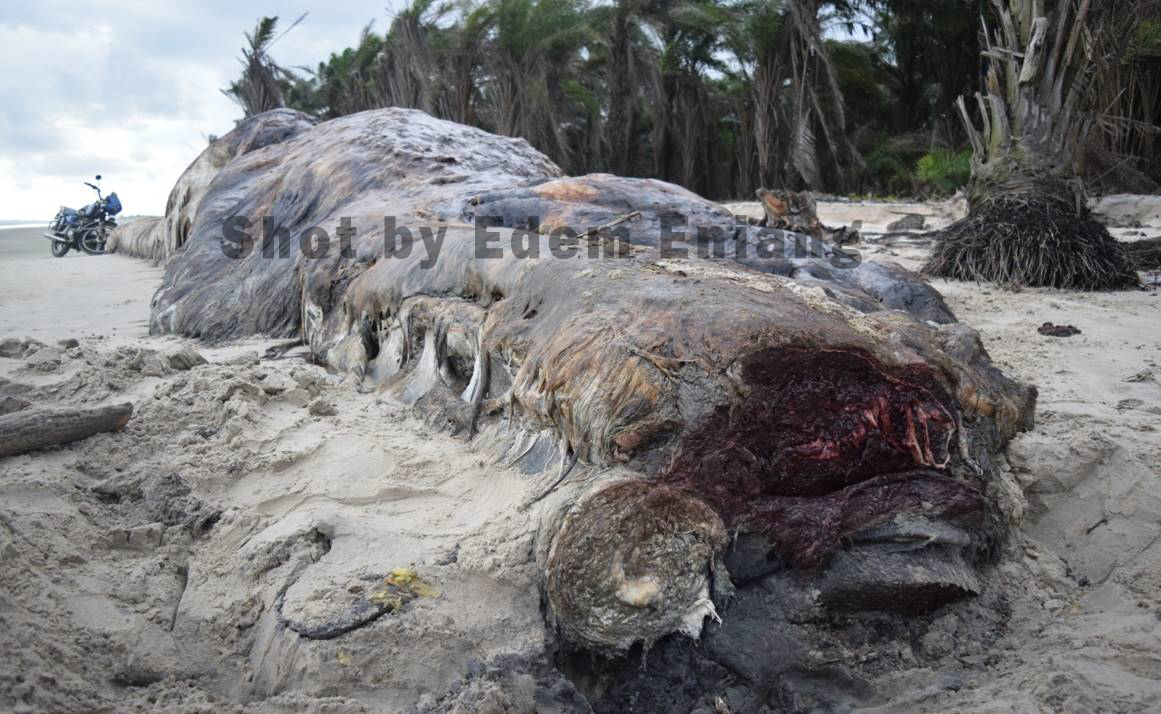 Why are people killing these Animals?
Poverty in the pocket
Poverty in the mind
Religious/ spiritual biases
Hunger for wild meat (Bushmeat)
Cultural attachment/ superstitious beliefs
Traditional rights/ medicines
Juju animism, sorcery and African traditional religion
Source of employment and income
Illiteracy and lack of conservation awareness
Illegal Trade and commerce
Absence of law enforcement/ deterrents/ corruption in high places
Our Suggested Solutions
Enforce the implementation of relevant multilateral/international agreements related to biodiversity e.g. Convention on Biological Diversity (CBD), Convention on International Trade in Endangered Species of Fauna and Flora (CITES) , Convention on Migratory Species  (CMS)
Increasing 'Communication, Education and Public Awareness' on biodiversity such as Eco-tourism, bio-prospecting to benefit local communities, the environment, species and their habitats
Follow the GEF /UNDP/ SGP Nigeria example to safe our species for both sustainable development and posterity
Engage Communities

Conclusion
The observed  trend which is dangerous to Vultures's long term survival is influenced by contemporary changes in socio-economic status of people and underscores need for policies/ law enforcement in Nigeria which requires greater understanding of both socio-economic drivers and illegal traders/ fetish uses of Vultures with a view to curbing the trend.
Acknowledgment
African Aquatic Conservation Fund
Biodiversity Preservation Center, Nigeria
Save the Manatee Club, USA
University of Uyo, Akwa Ibom state, Nigeria
Traditional Rulers and People of the Akwa/Cross region of Nigeria
Thank you for listening